Play Ballads: Alto Saxophone and Piano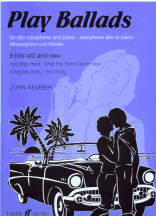 'The joy of ballad playing is indulgence pure and simple: performing the smoothest and most expressive of melodies'.
These melodies are similar in style and are attractive, providing opportunities for developing tonal quality, phrasing and legato playing. Play Ballads offers the Grade 4-6 (intermediate) instrumentalist the inspirations of some of the greatest exponents of the form.
First published in 2000, Alto Saxophone and Piano is intended for Grades 4 to 6. It has 9 arrangements on 32 pages and includes separate parts for each instrument.
Price £8.99
As well as a selection of 5 original pieces in ballad styles for the solo instrument, each volume contains an individual arrangement of 4 modern standards:
Hello

Lionel Richie

What the World Needs Now

Burt Bacharach

Killing Me Softly

Charles Fox and Norman Gimbel

Your Song

Elton John
Original ballad compositions for Alto Saxophone:
Wishful Thinking
We Can Work It Out
Bright and Breezy
Nostalgia
The Latin Touch