The Jazz Piano Player Collection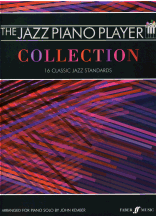 The JAZZ PIANO PLAYER COLLECTION is packed with highlights from the Jazz Piano Player series: classic jazz standards superbly arranged by John Kember for intermediate-level piano solo. All the songs are in their standard keys and include chord symbols; the accompanying CD features stunning performances by John Kember
First published in 2011, Jazz Piano Collection is intended for Grades 5 to 8. It has 16 arrangements on 37 pages.
Price £12.99
The pieces in this book are from the Golden Age of song writing, including works by George Gershwin, Cole Porter, Harold Arlen and Richard Rodgers among others. These songs have stood the test of time to become 'standards' for jazz musicians as well as singers; they represent the pinnacle of the art of melody writing, combining brilliant lyrics with wonderful harmonies. But how to get started playing this wonderful repertoire?
These arrangements for solo piano keep largely to the same original chord structure of the song and can be used as the basis for further development and extemporisation. More information on how to interpret and voice the chords is given on page 36. These solos are recorded on the accompanying CD.
There'S A Small Hotel

Lorenz Hart/Richard Rodgers

My Funny Valentine

Lorenz Hart/Richard Rodgers

In A Sentimental Mood

Duke Ellington/Irving Mills/Manny Kurtz

Try To Remember...

Jones/Harvey Schmidt

Let'S Do It (Let'S Fall In Love)

Cole Porter

How High

Moon
Nancy Hamilton/Morgan Lewis

Summertime

George Gershwin/Du Bose Heyward/Dorothy Heyward/Lra Gershwin

I'Ve

You Under My Skin
Cole Porter

Come Rain Or Come Shine

Johnny Mercer/Harold Arlen

You Make Me Feel So Young

Mack Gordon/Josef
Myrow

They Can'T Take That Away From Me

Ira Gershwin/George Gershwin

I Didn'T Know What Time It

... Lorenz Hart/Richard Rodgers

Let'S Call

Whole Thing
... George Gershwin/Ira Gershwin

I Could Write A Book

Lorenz Hart/Richard Rodgers

I

A Kick
Of
... Cole Porter

I Loves You, Porgy

George Gershwin/Ira Gershwin/Du Bose Heyward