34 Well-known Folk Songs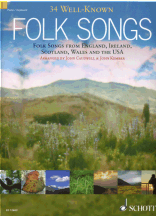 Co-written with John Caudwell, this book provides 34 folk songs from across the British Isles and the USA in easy arrangements together with a selection of more challenging versions. The keys are selected to make use of the most well-known chords and words are included for singing along.
First published in 2006, 34 Well-known Folk Songs is intended for grades 1 to 3. It has 34 arrangements on 44 pages.
Buy this book here: price £5.99