easijazz: 34 easy jazz pieces for solo piano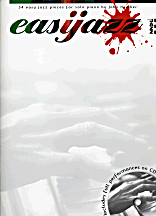 This collection of 34 easy pieces for piano solo began as an attempt to make this popular genre available to relative beginners on the piano, and for pianists at primary and intermediate levels.
My wish is that these pieces will enable them to experience the pleasure of playing in an authentic sounding jazz style as soon as possible.
First published in 2011, easijazz is intended for Beginner to Intermediate level. It has 34 original compositions on 32 pages.
Price £10.95
The pieces presented are in a wide range of styles including Latin and rock in addition to the more familiar 'swing' styles of playing.
Together these pieces will introduce the pianist to the rhythmic discipline required and help to develop a strong sense of coordination while enjoying the challenges and opportunities of performing short and varied pieces.