12 Original Piano Ballads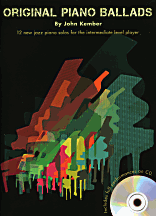 12 new jazz piano solos for the intermediate level player.
The pieces in this selection of piano solos are intended to evoke the atmosphere and styles of popular songs from the periods when melody, lyrics and harmonies reached their peak.
In each piece the harmonies need to be understood in order to give a meaningful performance, and to this end chord symbols are included with every piece.
First published in 2011, 12 Original Piano Ballads is intended for Intermediate level onwards. It has 12 original compositions on 32 pages.
Price £12.95
The pieces are, in fact, 'songs without lyrics' but have titles that may suggest a mood or scenario and, together with the melodic lines and chord patterns, will encourage the player too perform with expression appropriate to the style. Players may like to listen for the melodic phrase which suggested the title in each song, as the music was conceived long before the title.
The 12 pieces, which are all included on the accompanying CD, are:
And In The Morning
Don't Know Where, Don't Know When
Everybody Cares
A Hint Of Love
It Never Entered My Mind
Just For A While
Just One Moment More
Not For Today
One Day Soon
Take Two
To Make You Change Your Mind
Today's The Day