The Pop Piano Player: Isn't She Lovely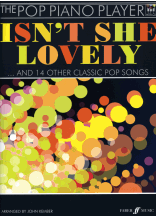 The Pop Piano Player books aim to to help pianists understand and play a selection of the greatest pop songs so that they are truly 'under their fingers'. The pieces in this book span almost five decades of popular music, representing styles from the 60's to the present day and from musicians from both sides of the Atlantic.
First published in 2009, Pop Piano: Isn't She Lovely is intended for Grades 6 to 8. It has 15 arrangements on 64 pages.
Price £12.99
Each piece is presented in two formats, which gives both the basic chord structure and symbols as well as a piano arrangement of each song. By learning the changes, the chords will become familiar, the progressions more readily understood and the shapes will lie more comfortably under the hands.
The arrangements for piano solo which follow keep largely to the same chord patterns though with some changes to the overall structure regarding verses etc., to create a balanced piano solo. These solos I have recorded on the accompanying CD.
Contents
Music

Miles

Dream a Little Dream of Me

Kahn/Schwandt/Andre

Sweet About Me

Cilmi/Cooper/Higgins/Powell/Larcombe/Coler

Everybody Hurts

Berry/Stipe/Buck/Mills

Come Away With Me

Jones

Stepping Stone

Duffy/Booker

Love Is a Losing Game

Winehouse

The Winner Takes it All

Andersson/Ulvaeus

Home

Buble/Foster-Gillies/Chang

A Million Love Songs

Barlow

The Book of Love

David/Bacharach

Billie Jean

Jackson

Isn't She Lovely

Wonder

The More I See You

Gordon/Warren

I Will Always Love You

Parton