An die Musik - 9 Classical Pieces arranged for String Quartet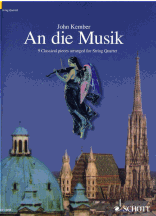 These 9 pieces by Schubert, Mozart, Paradies, Beethoven and Haydn are provided in the form of score and parts for the classical string quartet of two violins, viola and cello. The collection takes its name from the first piece, 'An die Musik' (Op 88 no 4) by Franz Schubert.
First published in 2005, An die Musik is intended for Grades 5 to 8. It has 9 arrangements on 19 pages and includes separate parts for each instrument.
Price £12.99
The pieces in the collection comprise:
An die Musik

Franz Schubert

Alleluja 'Exultate, jubilate'

Wolfgang Amadeus Mozart

Sicilienne

Pietro Paradies

Larghetto from the Clarinet Quintet, K581

Wolfgang Amadeus Mozart

Andante from the Piano Sonata in A flat, Op 26

Ludwig van Beethoven

Ave Verum Corpus K618

Wolfgang Amadeus Mozart

Andante from Symphony No 94, 'Surprise'

Joseph Haydn

Entr'acte from 'Rosamunde'

Franz Schubert

Adagio in F from Hob. XVII No 9

Joseph Haydn