The Ensemble Collection 4 : 7 Pieces for 3 Recorders (D D Tr) and Piano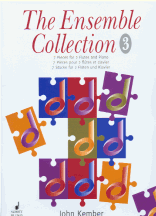 These original compositions, presented in a variety of styles, offer each player an equal share of the melodic interest and are aimed at students of similar playing experience and standards. The minimum teacher assistance should be required.
First published in 2001, 7 Pieces for 3 Recorders and Piano is intended for Grades 3 to 6. It has 7 original compositions on 30 pages and includes separate parts for each instrument.
Price £12.99
Ensemble compositions for 3 recorders and piano:
Tyrolean Mountain Song
Downtown Rio
Spanish nights
An Eastern Promise
Mississippi Blues
Highland Fling
English Folk-song