The Ensemble Collection 2 : 6 Pieces for 2 Violins, Viola (or cello) and Piano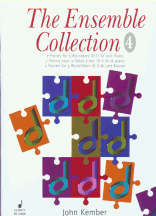 These original compositions, presented in a variety of styles, offer each player an equal share of the melodic interest and are aimed at students of similar playing experience and standards. The minimum teacher assistance should be required.
First published in 1997, For 2 Violins, Viola/Cello & Pi is intended for Grades 3 to 6. It has 6 original compositions on 27 pages and includes separate parts for each instrument.
Price £12.99
Ensemble compositions for strings and piano:
Nocturne
Barcarolle
Romance
Melodie
Waltz (with optional bass part)
Russian Dance