Jazz Piano Studies 1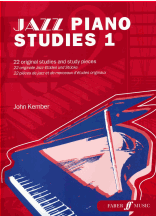 A great new collection of 22 original jazz studies and study pieces for players of approximately AB Grade 3-4 ability and above, spanning a host of jazz idioms from blues, trad and 'big band' to gospel, ballad and more reflective styles.
These carefully-graded studies explore systematically a broad range of techniques including left- and right-hand chord shapes, larger hand stretches, more complex rhythms, blue notes, ornaments and chromatic phrasing.
First published in 2005, Jazz Piano Studies 1 is intended for Grades 3 to 4. It has 22 original compositions on 30 pages.
Price £7.99
These studies aim to help the player to:
recognise and perform commonly-used time patterns with stylistic phrasing
understand anticipation (syncopation) of both notes and chords and perform them within a rigid tempo
play against the beat in either hand, whether with single notes or chords
form chords and recognise the sounds, textures and movements of notes within chords
use either hand to build and maintain a chord sequence
(Original edition published in 1995; this revised edition published in 2005)
Click here to read John's article in the summer 2005 edition of the Faber magazine 'Pianofforte'