Jazz Piano Studies 2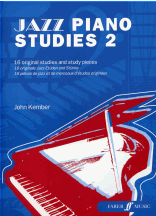 A great new collection of 16 original jazz studies and study pieces for players of approximately AB Grade 4-5 ability and above, spanning a host of jazz idioms from blues, trad and 'big band' to gospel, ballad and more reflective styles. These carefully-graded studies explore systematically a broad range of techniques including left- and right-hand chord shapes, larger hand stretches, more complex rhythms, blue notes, ornaments and chromatic phrasing.
First published in 2005, Jazz Piano Studies 2 is intended for Grades 4 to 5. It has 16 original compositions on 32 pages.
Price £7.99
Jazz relies heavily on recognisable, repeated harmonic patterns (chord sequences and/or bass lines) combined with inventive melodic and rhythmic improvisation - rather like the classical Theme and Variations. Level 2 of 'Jazz Piano Studies' sets out to explore these and other features of jazz piano styles, while aiming to develop familiarity with chords, increased independence of the hands, and a substantial repertoire of rhythmic and melodic ideas, figures and devices.
(Originally published in 1995, this revised edition published in 2005)
Click here to read John's article in the summer 2005 edition of the Faber magazine 'Pianofforte'