The Jazz Piano Master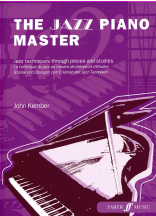 Jazz Piano Master will delight any student of about grade 6 or above with 19 jazz pieces covering a broad technical spectrum. These pieces as all are written out with full chord symbols underneath each bar, thus building up a repertoire of jazz styles and techniques while developing improvisatory skills
First published in 1997, The Jazz Piano Master is intended for Grades 6 to 8. It has 19 original compositions and arrangements on 46 pages.
Buy this book here: price £7.95
Includes six well-known favourites by Elton John, Cole Porter, Rodgers and Hammerstein, Stevie Wonder and Carole King, as well as 16 original works by John Kember himself.