Blues Pieces for Piano Solo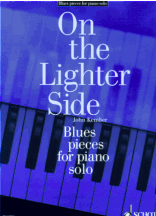 Rather than attempt to recreate the original early blues in these pieces, aspects of the varying moods of the blues are explored. In some pieces parts of the blues scale are used to convey the feeling. In others the tempo or the chords are the prime source of mood. The result, hopefully, is a variety of 'shades of blue' for which the titles may help to indicate the depth of 'blueness'.
First published in 2003, Blues Pieces for Piano Solo is intended for Grades 4 to 6. It has 14 original compositions on 21 pages.
Price £8.99
The 'Birth of the Blues' has been well documented in book, film and song, and the 12-bar blues sequence together with the blues scale and blue notes are all familiar to us.
Simply Blue
Light Blue
Baby Blue
Deep C Blue
Soft Blue
Cool Blue
Parisienne Blue
A Darker Shade of Blue
Bright Blue
Midnight Blue
True Blue
Azure Blue
Classic Blues
Denim Blue