Solo collection - 15 pieces for piano in Blues, Spiritual and Jazz Styles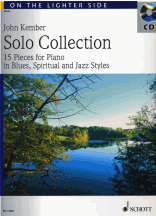 This collection consists of 15 pieces taken from three of the books in the "On the Lighter Side" series, in a progressive range of difficulty.
The pieces originally appeared in "16 pieces for Piano Solo", "Blues Pieces for Piano Solo" and "12 Spirituals for Piano Solo and Duet".
In addition to this balanced and varied selection a CD is included with recordings of all 15 pieces by the composer.
First published in 2005, Blues, Spiritual and Jazz Piano is intended for Grades 2 to 7. It has 15 original compositions on 31 pages.
Price £10.99
The 15 pieces included in this collection are:
Happy Feet
Mean Streets
Forgotten Waltz
Carol
Reminiscence
Deep Blue C
Baby Blue
Coole Blue
Darker Shade of Blue
Denim Blue
Azure Blue
Steal Away
Somebody's Knocking
Jus' Like John
Swing Low