12 Spirituals for piano solo and duet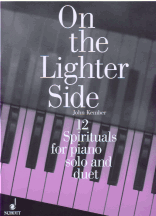 A new addition to this popular series of piano pieces, this collection consists of 7 solos and 5 duets from John Kember. Well known tunes with a swing, good fun and nicely done.
First published in 2000, 12 Spirituals for Piano is intended for Grades 4 to 7. It has 12 original compositions on 43 pages.
Price £11.99
Steal away
Swing low
Lil' David
Deep River
Standin' in the Need of Prayer
Joshua Fight the battle of Jericho