Rock and Soul Styles, 18 Pieces for Piano Solo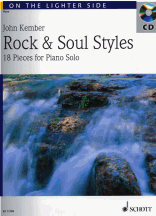 Rock music has been at the heart of popular culture for over half a century, though its roots lie in the Gospel music and Rhythm and Blues of decades earlier. The styles in this collection represent mainly the middle, high point of its popularity.
All these pieces depend on syncopation to varying degrees but share the steady pulse and often driving bass line common to all. They may differ in difficuulty and harmonic complexity, but share the 'straight' quavers common in all rock styles to the present day.
First published in 2005, Rock and Soul Pieces for Piano is intended for Grades 3 to 6. It has 18 original compositions on 32 pages.
Price £11.99
Features:
9 pieces in rock styles
9 pieces in rock ballad and soul styles
moderate to challenging in difficulty
many bass riffs and syncopated rhythms
'straight' quavers throughout
8- and 16-beat styles
chord symbols